As we've been cooped up inside using FaceTime, Snapchat, and Netflix to retain some semblance of sanity during this global pandemic, it's harder than ever to imagine even a day without the technology that binds us together. And yet, for 213 days in the areas of Kashmir and Jammu, whose autonomy has been disputed since the separation of India and Pakistan in 1947, this was reality.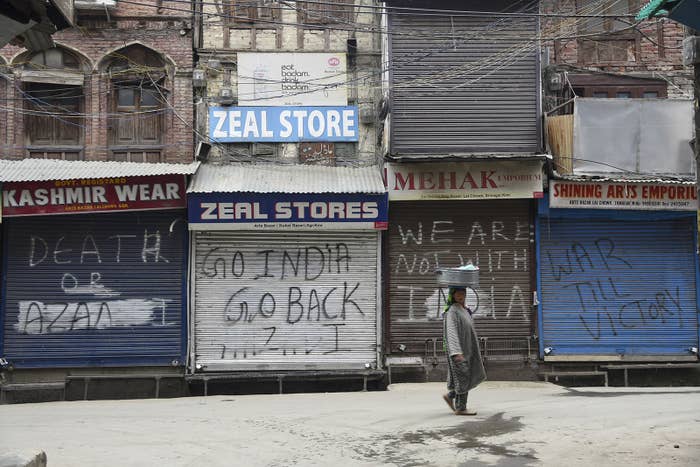 On August 5th, the Indian government cut all phone lines and internet connections in the Muslim-majority region without warning; information blockade was an integral part of a unilateral decision to revoke Article 370, which granted the region of 12.5 million people autonomy. Kashmiri politicians like former chief minister of Jammu and Kashmir Mehbooba Mufti were detained alongside innumerable activists and teachers. Roads were sealed off and patrolled by tens of thousands of armed soldiers.
As we're cooped up inside using FaceTime, Snapchat, and Netflix to retain some semblance of sanity, it's harder than ever to imagine even a day without the technology that binds us together. And yet, for 213 days in the areas of Kashmir and Jammu, whose autonomy has been disputed since the separation of India and Pakistan in 1947, this was reality.
In 2017, new legislation was passed in India that granted the country authority to temporarily suspend internet access when faced with "public emergency or public safety", and under the nations laws authorities even at the local level can easily shut down internet in the name of ensuring "peace and tranquility".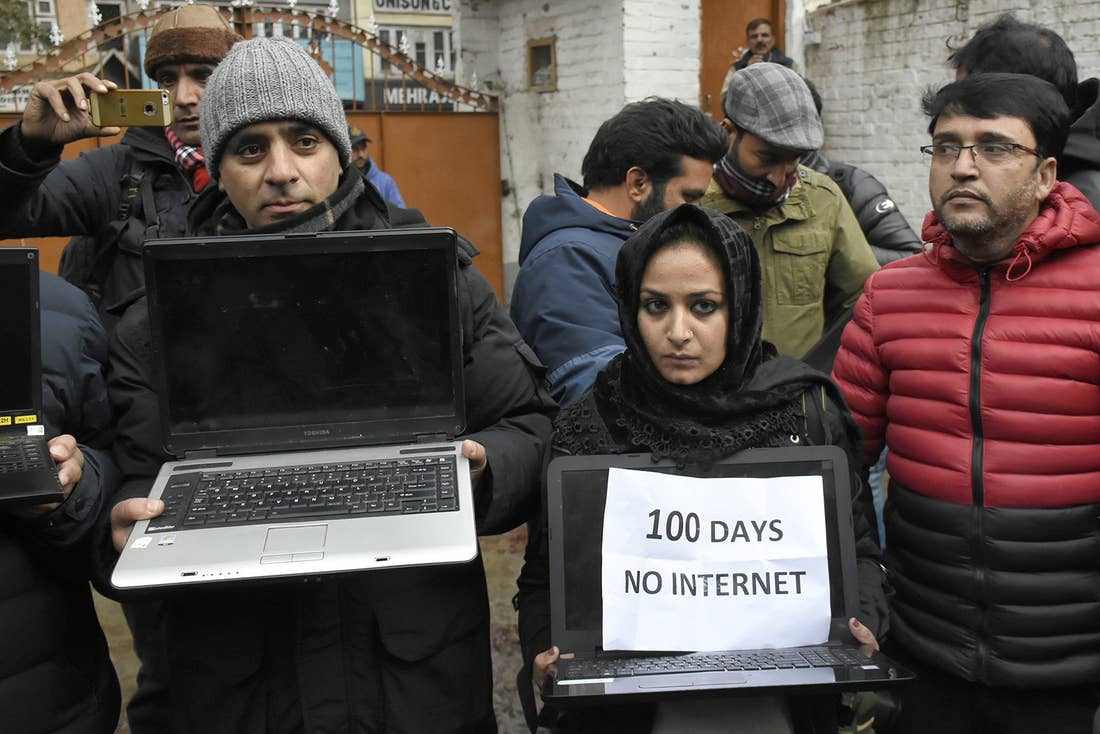 While Prime Minister Modi has long harped about the importance of using the internet to modernize t he country and bring it out of poverty, the world's most populous democracy has rapidly become the global leader in weaponizing internet shutdowns to suppress dissent. The latest report by Access Now, a digital rights advocacy group, found that in 2019, India shut down the internet a total of 121 times.
"Shutting down the internet has become the first go-to the moment the police think there will be any kind of disturbance"

Mishi Choudhary, founder of of SFLC.in, a legal advocacy group in New Delhi that has tracked the sharp rise in web shutdowns in India since 2012
For India's businesses and economy, this default to cutting internet at the first sign of trouble has come at great cost. The Indian Council for Research on International Economic Relations estimated in 2018 that shutdowns from 2012-2017 cost the economy more than three billion dollars.
The Darjeeling shutdown, one of the longest in the country, occurred after the state government decided it needed to quash a separatist movement that had violently clashed with security forces. The tea industry that was the lifeblood of the local economy lost most of the year's harvest as workers went on strike, the damage affecting the next year's harvest as well. Many corporate tea buyers and traders looked to buy tea elsewhere during the disruption and never came back, demonstrating the lasting impact internet shutdowns can have on a region.
In the troubling case of Kashmir and Jammu, the shutdown was a preemptive strike that brought everyday life to a halt and demonstrated the indisputably human impact of a world without internet. Vital supplies that were usually ordered online, like insulin and baby food, were running out. ATMs and banks were inoperable without an internet connection, making cash scarce. Without means to buy and sell as usual, small businesses suffered. News sources shuttered their doors. WhatsApp threads went silent. Bills were left unpaid. Students that relied on internet access for their education were left in the dark. And without means of calling ambulances or communicating with doctors, people died.
"I couldn't contact my cousins for months. It was absolutely terrifying."

SAS 11th grade student
It's for these reasons (and a multitude more) that human rights organizations are vocal that internet shutdowns should be seen as a decidedly unethical violation of human rights. In 2016, the UN made an addition to the Universal Declaration of Human Rights: "Everyone has the right to freedom of opinion and expression; this right includes freedom to …seek, receive, and impart information and ideas through any media and regardless of frontiers." India was quick to join the likes of Russia, China, and Saudi Arabia in opposing the new language.
At the time of the Kashmiri shutdown, the consensus from authorities was that it was necessary in order to curb the spread of false information and prevent a rise of violent protests following the controversial decision to revoke the region's autonomy.
"The Kashmir shutdown is to me the worst case scenario of the lengths a government will go to in order to achieve their own agenda."

SAS 9th grade student
And yet despite the government's claims, extensive research has shown that in the case of India, at least when looking at 2016, internet shutdowns are almost invariably followed by an increase in violent protest; when looking at the damages these shutdowns do to a community already on edge, it's not difficult to see how these impacts can push people even further towards violence.
As for the spread of false information, communications blackouts fail to account for the sheer power of word of mouth, and the danger that can pose without any way to verify information through a credible medium. The truth is, claiming misinformation and a potential for violence without providing reasonable grounds are convenient scapegoats for a government using oppressive methods to spin the narrative in their favor.
"Disinformation and misinformation is more of an excuse than a real reason for the popularization of shutdowns as a form of information control"

Jan Rydzak, a research analyst at Ranking Digital Rights, a digital free speech and privacy nonprofit.
It was only in January that the government took steps toward restoring internet access by unblocking a few hundred websites and putting a partial end to the longest such shutdown in any democracy. That same month, India's Supreme Court called for the state to review the ongoing internet shutdown, arguing that freedom of speech and expression was an "integral part" of Article 19 in India's constitution and an "indefinite" crackdown would be considered illegal. Additionally, the court ruled that the indefinite shutdown in Kashmir was unwarranted and demonstrated an "abuse of power" by Prime Minister Modi.
"I'm Chinese, and our internet is limited when we go back home. It's already incredibly frustrating there. I can't even begin to comprehend how I would feel living in a country limiting my internet access to that extent."

sas 10th grade student
Although landlines, mobile phones, and cable television have since been restored, the internet remains partially blocked, barring a few hundred websites. Even now, social media remains off limits and mobile data access is limited to 2G connections. But in February, local authorities in Kashmir filed a case against hundreds of VPN users in the region, accusing them of "misuse of social media" and disseminating fake and false secessionist, anti-India propaganda." At military checkpoints, men and women have been asked to show their phones so officials can check if they have VPNs.
The devastation that compounds from a shutdown's ripple effects is undeniable. It's impossible to ignore or fail to mention the effects on the economy, on people's health, on education. Although we at Singapore American School may feel far away from the problem, the precedent that India's habitual use of internet shutdowns sets is dangerous for all of us. And the most piercing truth about the Kashmir shutdown is that the integrity of any democracy is defined not by its citizens' ability to vote, but its allowance for dissent. Only time will tell whether the Indian government will choose to honor the integrity that it has promised to its citizens. But as the Washington Post's slogan so aptly puts it, democracy dies in darkness. And the darkness that has taken root as a result of this shutdown is the kind that leaves a mark.