Travelling around the globe this summer vacation? Scared of gaining a few pounds? Then you have come to the right place. We are all too familiar with the post-summer weight gain – well, most of us are. And more often than ever, we dread having to get back into our routines and shed those few pounds.
But there is a solution to this problem, and it has a name: Mrs. Pong. Pong makes the option of staying active this summer extremely easy. With her seven exercises that require no equipment, you can get a full-body workout anywhere, anytime.
A few things you should know before starting this seven minute workout:
Be sure to warm up first to prepare your body for the workout.
This workout can be done in seven minutes. If you have time and energy to spare, complete a second set for a 14 minute workout. A good goal by the end of the summer would be to do this workout for three rounds.
Focus on your quality of movement rather than the quantity.
Remember to cool down.
7-minute Total Body Workout:
Do each exercise for 45 seconds and allow for 15 seconds to transition to the next exercise.
Walk out to Spiderman Push Ups
Regression: Spread legs
Touchdowns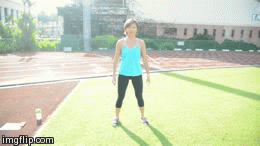 Regression: Triple-extension instead of jump
Plank Taps
Regression: Spread legs
Lunge Matrix
Bottoms-Up Push Up to Superman
Regression: Spread legs
Lateral shuffles to Squat Jumps
Regression: Triple extension instead of jump
Burpees with a roll
Regression: Triple-extension instead of jump